---
Tushar Raheja
Anything for You, Ma'ams
Romantic Comedy
IN A LINE:
An engineering undergrad must risk his career to meet his girlfriend at the other end of India.
One of India's biggest bestsellers ever – has sold over a 1,000,000 copies. Has been a campus favourite for over a decade now.
Strong potential in the Indian expatriate market among students and young corporates.
A romantic comedy where   Wodehouse meets the idiom of Indian comic filmmaker Hrishikesh Mukherjee.
PAPERBACK
ISBN : 9788192681016
Suggested Retail Price : gbp 5.99; usd 6.99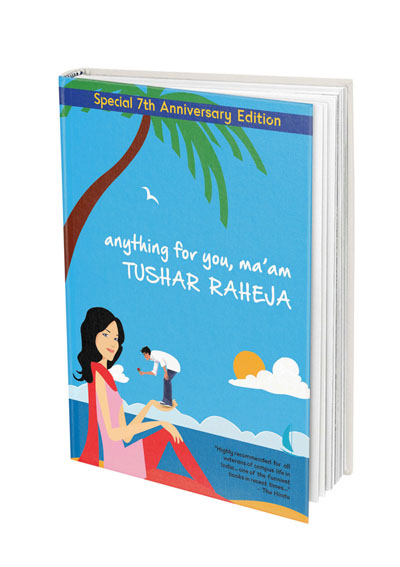 WHAT THE PRESS SAYS
'What Raheja does is to very cleverly localize the Wooster persona….Some of the humour is side splittin'
The Hindu
'A classic film plot… a laugh-a-minute book'
The Times of India
'Raheja writes a touching book about a young lover's story… that engrosses the reader, with its high speed rather hilarious turn of events'
The Pioneer
'Anything for you, ma'am is a delicacy of feelings with dollops of mischief and fun'
Society Magazine
'One must hand it to the young author for an enterprising race to the finish'
Deccan Herald