He did not stop to observe his kills, nor to wipe blood off his face. I am a King, he reminded himself. I must be the best among my men, the most fearsome warrior that Solar blood can produce.' More than a thousand years before Rama, civilization lay fragmented by wars between Aryas and their enemies. From a tribe at the frontlines of this battle, rose the boy king Ikshvaku, the first Manava, founder of the first kingdom in the Indian subcontinent.

This is a story of the first King of our lands – the founder of Suryavansha – of betrayal and loyalty, of dynasties and destruction. A perfect beginning to The Scrolls of Aryavarta. Who founded the ancient cities such as Prayaga and Kashi? Who established Ayodhya, and when? What were the various Arya tribes that populated ancient India? The Scrolls of Aryavarta seeks to answer these and many other questions, and The Seal of Surya is one story in this universe.

'A rocking read. True blast from the ancient past.'- Krishna Udayasankar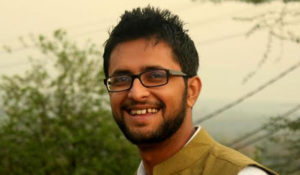 Amritanshu Pandey the author of The Seal of Surya has also written various articles. His lucid style is praised by the readers. He is able to engage various readers due to his writing style and story conveying style. Apart from Vedic and Pre-Vedic history, he also has a keen interest for science fiction and is planning to write in that section as well.
Media Coverage
http://www.thehindu.com/features/metroplus/tales-from-the-aryavarta/article7015483.ece
http://zeenews.india.com/exclusive/i-have-envisioned-ranveer-singh-as-the-main-character-of-my-book-amritanshu-pandey_1568930.html